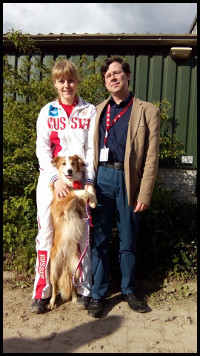 A Q&A with Anton Kudrin
Where do you live?
I live with my wife Anna and our daughter in the West Urals region of the Russia in Perm City.
How did you get involved in agility and how long have you been involved?
I started my agility career in 2003 with an Irish Soft Coated Wheaten Terrier. In 2004, I met my future wife. She quite successfully performed with a Sheltie, Nocturne (aka Hippy), at the national level. She was also a member of the national team at the USDAA Grand Prix 2003. While she was sitting with our child in 2006, I started to perform with Hippy. At the IFCS WAC 2008 in Belgium, we were third in non-championship class Power & Speed and Team World Champion as a member of the Russia Federation team.
Do you participate in any other dog sports or training with your dogs?
No. We train only agility now. In the past our older Border Collie had experience in agility, frisbee, weight pulling, therapy and rescue service.
What types of dogs do you have and what are their names, ages, and any titles?
We have three dogs: two Border Collies and a Parson Russell Terrier. The older Border Collie Perpetum Mobile (home name Mobi) is nine-years-old. She was imported from the USA in 2007. She is a multiple time Russian Champion in team class, Junior EO Champion 2015, and a certified Canis Therapy dog. The second Border Collie is Mobi's daughter — Beverly (home name Solo). Beverly is five-years-old. She is the Russian Champion 2015 in individual class, IFCS WAC 2016 Champion in teams. The Parson Russell Terrier is three-years-old. She does not have any big titles yet and is proceeding to Agility-2 now.
What is something unique about your dog (or dogs) you like to tell people?
In 2015 Mobi and her three daughters qualified for the Russian national team and competed in IFCS World Agility Championships in Italy.
What do you do in your "other" non-agility life?
I work in the procurement department in ER-Telecom Company. It's a big Russian internet and TV provider company.