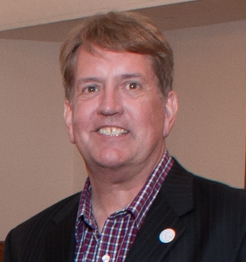 Kenneth Tatsch has served as Secretary-General of IFCS since the beginning of 2013, being elected on the IFCS Congress of 2012. He was originally elected the IFCS Vice-President on the IFCS Congress 2002. From 2006 to 2012 Kenneth Tatsch held the post of IFCS President.
Kenneth Tatsch was an original signer of the IFCS Declaration of Support on behalf of United States Dog Agility Association (USDAA) at the IFCS organizational meeting in February 2001, in Moscow.
Kenneth Tatsch has been involved in the dog sport since 1980. Kenneth Tatsch is founder and President of United States Dog Agility Association, Inc. (USDAA) and was a leading figure in development of dog agility throughout North America.
In 1985, he began study of dog agility in Great Britain under the tutelage of Peter Lewis, one of the innovators of the sport, among others, and attended residency judges training and instructors seminars on several occasions in Great Britain during the earlier years of founding the United States Dog Agility Association (USDAA).
Kenneth Tatsch has judged numerous events at the local, regional, national, and international level over the past thirty years, including being Chief Judge of the 1st IFCS World Agility Championship held on the 31st of March 2002 in Moscow and at the 2nd IFCS World Agility Championship held in Spain in 2004.
In 1988, Kenneth Tatsch introduced the Grand Prix of Dog Agility as the first national tournament on the North American continent. In 1990, Kenneth Tatsch introduced USDAA's dog agility certification program, wherein dog/handler teams compete to earn Title Certificates for their dogs, evidencing their accomplishments against pre-defined performance standards. In 1993, he introduced USDAA Junior Handler Program for dog agility, where school-age children and their pets compete on less demanding courses, with the emphasis in competition being on junior handler and dog working together well on simplified courses. In 1993, Kenneth Tatsch introduced the first team championship tournament series – the Dog Agility Masters® Team Championships where three-dog/handler teams compete in standard agility, jumpers, gamblers, snooker agility and three-dog relay classes, and in 1997 introduced a third competitive tournament series – the $10,000 Dog Agility Steeplechase Championships, where dogs race for time on a jumpers style course that also includes an A-frame and introduced the Masters Challenge Biathlon in 2013.
Throughout USDAA's development, which has led the development of dog agility throughout the western hemisphere, Kenneth Tatsch developed formal trianing seminars in training of judges for USDAA events that have since been imulated by other organizations througout North America. Through the years he has conducted more than 100 seminars in judging, instruction and training of dogs around the globe. He provided guidance for the establishment of dog agility from 1997 to 1999 in Mexico, which now has a well-established program for dog agility recognized by the FCM (Mexico Kennel Club).
He continues to travel to other countries to promote world standards for dog agility, and has organized United States Association of Cynological Sport (USACS) as a recognized public charity for the support of amateur cynological sports.