IFCS Interviews: Cathy Slot – Team Australia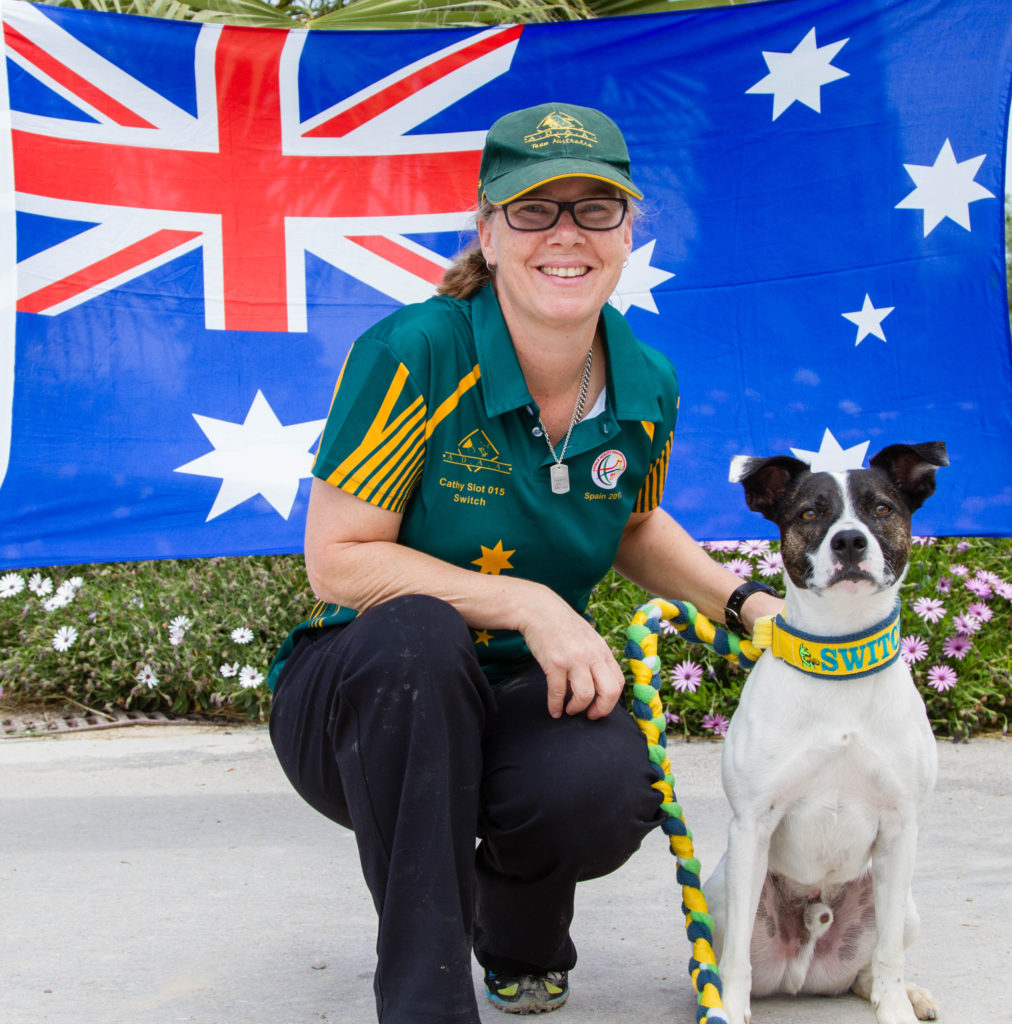 This is the second of a series of interviews entirely dedicated to the athletes and coaches that took part, several times, at the IFCS World Agility Championships.
We are glad to introduce you Cathy Slot. She comes from Australia and she covered different roles at WACs: Judge, Team Manager and athlete! Congratulations for your great experiences at WAC and thanks for the emotions that your words give rise to in us.
Enjoy the reading!
Name, Surname and Team: Cathy Slot, Team Australia
Where do you live? A suburb called Chuwar, near Brisbane, Queensland (east coast of Australia)
In which year did you take part in WAC for the first time? 2004, I travelled to Spain with Steve Drinkwater (WAC Judge). Aside from seeing the agility, I have wonderful memories of pans of paella served for the competitors and officials
How many WAC editions did you take part in? Did you cover different roles at WAC? I have attended many IFCS Championships.
I was an officiating judge at WAC Belgium 2008. That was definitely a special event and I have very fond memories of handlers running my Snooker course and getting a perfect score of 51 points. It was certainly a privilege to be invited to Judge. This was also the first WAC that members of Team Australia competed (Mal Williams and Tracey Harrison-Hill) running host dogs (from Belgium), so it was wonderful to be at the championships for that too. The host organisation had a wonderful camaraderie with catered lunches, so lots of new friendships formed here, many of whom I remain in contact with some 12 years later.
I was Team Manager for ADAA's Team Australia for WAC United Kingdom 2010 and WAC USA 2012. These two championships provided the learning curve for our team to find host dogs to run at the Championships and to develop best ways for handlers to quickly learn about and build a relationship with their host dog. I was delighted to be invited to judge at the Continental Championships 2013 in Girona Spain. It was wonderful walking with Josep Duran and learning about the historic township of Girona. I travelled to WAC 2014 in Netherlands and WAC 2015 in Italy in an unofficial capacity. As it turned out I did some scribing and helped in the background at both events. WAC Spain 2017 was my first year as a Team Handler running Switch (host dog owned by Kim Dunsdon, Canada). It was a huge learning experience, fortunately Switch was trained in the same handling and cueing system that I use with my dogs, but lots of fun too. WAC Italy 2018 I was fortunate to be selected to Team Australia, again running Switch. I was the sole competitor from Team Australia that year so the WAC was amazing for the wonderful experience and support from Erika Lunardi (FISC), Donata Ghiringhelli (Switzerland), Bart de Decker (Belgium) and also team members from other countries who provided support and encouragement. WAC Netherlands 2019 was a very different experience as my host dog, Peak Performance (Chase) owned by Anastasia Egorova, was from Russia. Chase is an extremely talented dog (Anastasia had achieved multiple podiums) however whilst there were commonalities with his handling, many of his cues are in Russian…… oh, and I had to teach myself how to do the famous (in my mind at least) Russian r-r-r-r-r-r cue for the weave poles. I spent time in Moscow prior to WAC to have some practice with Chase prior to travelling to the Netherlands. That saw a full car (people and dogs) heading to the arenas just outside of Moscow for late night training sessions as the venues are fully booked during the day.
What is your favourite memory at WAC? Each Championship has a special memory of wonderful exhibitions of skills and sportsmanship, friendships made and amazing places visited. Whilst members of Team Australia run host dogs, often a dog they've only met for the first time two or three weeks beforehand, the generosity of Agility enthusiasts around the world abounds and lifelong friendships form. That is so very special. It is definitely much more difficult to run a dog that you don't run all of the time, as timing and commitment points aren't second nature, but it is a wonderful experience, and I strongly recommend it to anyone who is able to participate. Whilst very difficult, with the right dog and handler it is certainly possible to get on the podium. I am also very grateful for the wonderful efforts of all of the volunteers who organise the IFCS WAC each year, as well as the kindness and generosity of host dog owners and other country team members. This is what makes the event so special and unlike any other around the world. I certainly attribute my time and efforts for Team Australia at WAC as part of the reason I was awarded a Medal of the Order of Australia (OAM) (General Division) for services to dog Agility sports on 10 June 2019.
Tell us the name of your dogs: Axel and Porsche are German Koolies. Porsche is retired and is 13.5 years old. Axel is 7.5 years old and currently competes in Agility. He had a shoulder injury some time back and we have worked on his rehabilitation back from injury, with a few hiccups along the way. Axel is a joyous dog, he chills out in the house, but loves to do training and activities together. We have fun on bush walks together and he also enjoys swimming.
Will you attend WAC 2021: I am hoping to however that will depend on travel restrictions for Australians, as our borders are currently closed for international travel. I am also yet to arrange a host dog, as Australian quarantine creates issues returning to Australia with your dog.
Thanks Cathy for join us in this interview!
Stay tuned. The next interviews coming soon!
Interview by Erika Lunardi