IFCS Interviews: Seanna O'Neill – Team Canada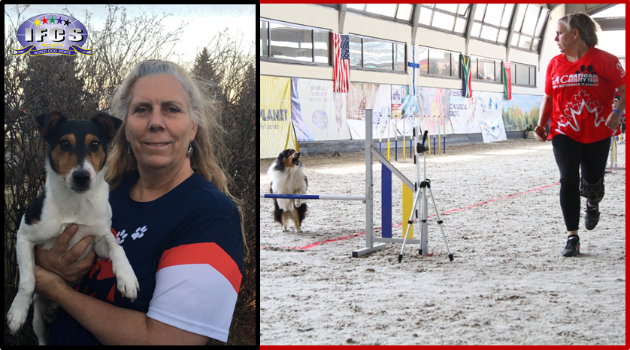 Here you can find the 3rd of a series of interviews entirely dedicated to the athletes and coaches that took part at the IFCS World Agility Championships.
Seanna O'Neill comes from Canada and she took part several times at WAC. Great results for her as a competitor and amazing podiums for Team Canada when she was a Team Manager. She also has three daughters: Kirstin O'Neill, Meaghan O'Neill, and Teri O'Neill, who all love agility so much!
Enjoy the reading!
Name, Surname and Team: Seanna O'Neill – Team Canada

Where do you live? I live in Edmonton, Alberta Canada, which is the northernmost city in Canada, so we get a lot of winter… -30 Celsius is a pretty normal winter day, with several feet of snow on the ground for months at a time. So we cannot practice or play agility outside in the winter. But in the summer it is beautiful.

In which year did you take part in WAC for the first time? In 2014 I went to support the team as a member of the Management Group.

How many WAC editions did you take part in? In 2015 I became the Team Manager and I have been to the WAC in every year since as eithor a Manager or Competitor.

Did you cover different roles at WAC? Yes I started out in Management positions, and was part of the Management for several years starting in 2014, because I felt that there were some issues with the way the Canadian team were chosen for WAC prior to 2013, so I wanted to try to promote a change to the process. Over a couple of years we changed from selections being done by a Committee that was watching people's videotaped runs, to a head to head selection process. We now use our National Championships (6 runs), combined with a few European runs a couple of days before Nationals, to make the selections for the team. Because our Nationals are a little more geared toward consistency than speed we also re-score the Nationals results with a time + faults format specifically for Team selection. So a much more transparent and fair selection process, which I am pretty proud to have helped put into place.
In 2017 I was going to WAC as part of the Management, and heard that the Australians were looking for dogs to run. So I arranged to take my 2 year old mixed breed dog Chips to the competition for one of them to run. It was really fun being able to cheer on two teams that year, as we got to know quite a few of the Australian team members through their practices with our dogs. Chips ran really well for the Aussie team, coming really close to medalling, but being a young dog with a new handler there were just one or two moments that cost them.
In 2018 I decided to apply with my Sheltie, Excel, to see the event from the competitor side. It was a great experience, very different from managing (much more relaxing with someone else taking care of all of the issues), and we even got onto the podium in Gamblers and Overall, so I felt like I had a really well rounded competitor experience.
That year I again took Chips along for the ride, even though he was not competing. The day that WAC began the organizers came around to the various teams and asked if anyone had an extra dog, because one of the Japanese dogs was injured. Well of course Chips would rather play than watch, so he was in, and once again got to play at WAC for another country. That year he and his new handler only had the opportunity to do the warm up jumps and had no practice time at all, because the competition was already under way. But they figured each other out very quickly, and Chips will run his heart out for anyone, so he gave it his all. But running full out has its challenges, and once again, just a couple of moments of disconnect cost them in otherwise really great runs. But it was great fun to watch!
Which WAC edition do you prefer? Honestly, I have enjoyed them all. Each year and each host country brings something different to the event, and I look forward to seeing all the great dogs and handlers from all over the world each year. I also have the privilege of having three daughters; Kirstin ONeill, Meaghan ONeill, and Teri ONeill, who all love agility, and are among the top teams competing in Canada. All three have been to WAC many times, bringing home medals for Team Canada. So the past few years I have also really enjoyed being able to watch them compete, in addition to helping with the team, being able to be part of celebrating Canada's success, and just enjoying all the great WAC moments!

What is your favorite memory at WAC? Most of all, I love the medal ceremonies at WAC; all the countries joining together to celebrate the best among them, such camaraderie among the competitors is for me what agility is all about. Putting it all on the line in the event, good natured competitiveness, and in the end everyone supporting each other regardless of who ended up on the podium.

Tell us the name of your dog/dogs: Currently I have Excel, Sheltie, 9 years old; Chips, mixed breed (son of Excel), 5 years old, and Daeny, Sheltie (daughter of Excel) 3 years old.

Tell us something about him/her/them: One of the reasons that I have not run as much in competition is that I had a bad knee injury that has taken a number of years to recover from, and it likely will not ever be 100%, and I am a wee bit older then many of the other competitors. So I train a lot of distance and independence, which is one of the reasons that my dogs will run for anyone. When I was not able to run, I was able to hand off Excel to other handlers to qualify for the Canadian team, and he even has medalled at WAC with different handlers. Though Excel and Chips will both run for anyone, Excel is a little easier because he will adjust more to the handler. Chips goes full out all the time, and so the handler better keep up! Daeny, my young Sheltie, is also quite quick, but her training has not been as consistent, as Kirstin and I have been working on getting a training center (Dynamo Dogsports) up and running, and that has taken a lot of time away from actually playing with my dogs in the past few years.

I am also an agility judge for various organizations, including AAC and CKC in Canada, and with the restrictions lately it has been difficult to bring judges in for events. So I have ended up doing a lot of judging recently at local events, which means that I have not been able to run my dogs much at all over the past few months.

But Kirstin and I are now going to be moving our Dynamo Dogsports Training Centre into a new space (it will be the largest matted indoor agility space in Canada!), and hopefully the larger space will give us more opportunities to play with our dogs in between teaching classes. So I am looking forward to running Chips more myself, and to getting Daeny out to run in more events.

In addition to agility, Kirstin and I teach various other dog sports, so our dogs also play in other disciplines like flyball, barn hunt, dock diving, rally, obedience, bitework, disc, den trials, lure coursing etc…depending on the dog. While the primary focus is always agility, we love to try other things as well, because it keeps our dogs learning and well rounded; and elevates our ability to train new things, and problem solve different types of training challenges.
Will you attend WAC2021? If yes, what is your goal for WAC 2021? I am on the Canadian team for 2021 with Chips in Mini; Kirstin is on the team with eithor Radical Rabbit (Malinois) or Pinnacle Penguin (Malinois) in Maxi, and with Crunchie (Mixed breed) in Mini, and with Posh (Chip's mother, Parson Russell Terrier) in Toy; Meaghan is on the team with Devy (Border Collie) in Maxi; and Teri is on the team with Loco (Border Collie) in Midi and Evo (Mixed breed) in Toy, so I am definitely planning to attend! My goal with my dog is try to try pull out at least one good run, where we are connected and fast the whole way around, and finish the run with a sense that it all came together perfectly, exactly the way I walked it! Excel also might find his way onto the Australian team for 2021, so that would be fun as well.
Thanks Seanna for join us in this interview!
Stay tuned.
The next interviews coming soon!
Interview by Erika Lunardi