IFCS Interviews: Francisco J. Alegre – Team Spain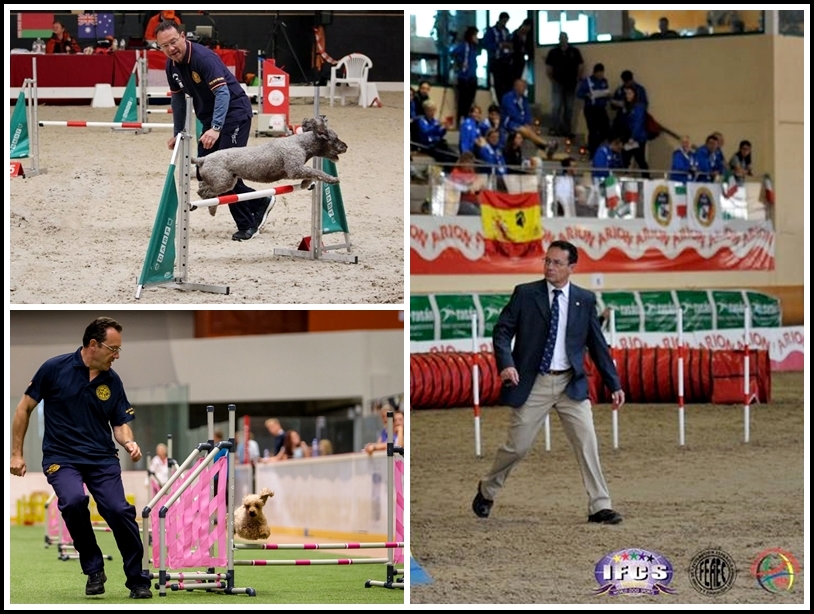 We are glad to introduce you Francisco J. Alegre from Spain.
This interview is part of a series of interviews entirely dedicated to the athletes and coaches that took part at the IFCS World Agility Championships.
Francisco took part in WAC in very different rules: Competitor, Team Leader and Judge. His great passion for agility involves everyone meet him on the ring!
Enjoy the reading!
---
Name, Surname and Team: Francisco Javier Alegre Sancho. Team Spain. In Spain there are always two surnames. All people call me Paco. Paco is colloquial or diminutive name of Francisco.
Where do you live? I live in Teruel. Teruel is a small provincial capital surrounded by nature and history in the autonomous community of Aragón. Teruel is located between Valencia and Zaragoza.
In which year did you take part in WAC for first time? My first WAC was in 2004. That year was celebrated in Picassent, in Valencia (Spain). I took part as one of the judges of the event.
How many WAC editions did you take part in? I have taken part in eight editions of WAC. In Spain 2004 (Picassent), Belgium 2008 (Ingelmunster), United Kingdom 2010 (Clevedon), Spain 2013 (Girona), Italy 2015 (Voghera), Spain 2017 (Godella), Italy 2018 (Bollate) and Netherlands 2019 (Hellendoorn).
Did you cover different roles ay WAC? Yes. I have taken part as a judge three times (2004, 2008 and 2017), as a Team Leader once (2010), and four times as a competitor (2013, 2015, 2018 as reserve, and 2019).
Which WAC edition do you prefer? It's a difficult question to answer. Each and every WAC has had special moments that could make them the preferred edition in a certain situation. Fun moments and interesting trips, incredible landscapes and notably organized events in perfect locations. But to be honest I must say that for all the work and effort that we had to do for some many months, and the personal involvement, first with the organization of the event and later as a judge, Spain 2017 has been the most special edition for me.
What is your favorite memory at WAC? I have many favorite memories. To be nervous and excited in my first course as a WAC judge, my first WAC. The Gamblers course in Ingelmunster. The visit to Stonhenge. Back again to Voghera to the Cowboy Guest Ranch. The applause and recognition for the staff people in CES in Spain. Back to competition in Hellendoorn, and so many others…
Tell us the name of your dogs: Athos, a Toy Poodle of 12 years old, and Kerchak, a Spanish Water Dog, of 4 and a half years old.
Tell us something about them: Athos is a little musketeer with a huge heart. Very brave, very smart, with a lot of genius. He showed me everything that he was capable of reach despite of his small size. Now he lives calm and happy in his retirement. Kerchak is a Spanish Water Dog, my favorite breed. He is very good and noble, smart and hard-working. My bond with him is very special, he is my shadow and I have many illusions in him. They are family dogs. We enjoy home, walks and nature. And of course Agility.
Will you attend WAC 2021? What is your goal for WAC 2021? Yes, I will go to WAC 2021. I am classified with Kerchak. The main goals are to enjoy the event and see all the friends from so many countries again. And in the competition we will try to do well. The goal is to get good runs and have good feelings, and if we can qualify for some Top Ten, although I know it's very difficult, we will be very happy.
Thanks Paco for join us in this interview!
Stay tuned.. the next interviews coming soon!