IFCS Interviews: Dawn Weaver – Team Great Britain
We are glad to introduce you Dawn Weaver from Great Britain
This interview is part of a series of interviews entirely dedicated to the athletes and coaches that took part in the IFCS World Agility Championships.
Dawn won a lot of medals with her dogs and she is also a GB Team Manager.
Enjoy the reading!
Name, Surname and Team: Dawn Weaver. Team GB
Where do you live? Portland, Dorset, United Kingdom
In which year did you take part in WAC for the first time? I've been to so many I can't remember but I have seen a medal around the house with 2003 on it.
How many WAC editions did you take part in? Haven't a clue! But I know I competed over many years and won medals with my dogs Chelsea, Puzzle, Freeway, Minky, Promise and Vegas.
Did you cover different roles at WAC? I started by being a competitor and then took over the role of Team Manager once my FAB shows allowed me to take over the IFCS membership in the United Kingdom.
Which WAC edition do you prefer? The last one in the Netherlands – For lots of reasons. I loved the courses and running my best friend Vegas. As always it was an incredible experience stepping to the line with him. He is an incredible dog. I nearly didn't make it there. I looked the wrong way at a junction in Europe (stupid English driving on the wrong side of the road! LOL). I nearly got taken out by a huge coach coming at speed. Scared my other team mates travelling behind. They shut their eyes! I did also have food poisoning on the way home and ended up in a layby overnight on my own overnight as I couldn't drive. That was an experience in itself!
What is your favorite memory at WAC? Being the Team Manager means I'm over the moon when one of our competitors does well and gets on the podium. Also personally winning three gold medals at the last WAC with Vegas has got to be near the top of the list and also, many years ago, winning Gold in Snooker with Freeway who was a beardie x in the large height running against all the border collies. One strong memory was when I competed at the IFCS in England and as I walked to the startline with Puzzle my papillon I completely forgot the course. I couldn't remember it at all! I prevaricated with the lead – pretending to have trouble getting it off him while I looked at the first few numbers. I got to number 5 but then realized I needed to start running. I kept glancing around while I was running and remembered a bit of the course at a time as I got to it. I got round it and won the Gold medal!
Tell us the name of your dog/dogs: Vegas is the dog I compete with at WAC. I also currently compete with Summer (Vegas sister) and Bear (Vegas son).
Tell us something about him/her/them: Vegas is an incredible dog. So willing and listens and reacts so fast. He takes care of all the other dogs, washing their ears and eyes and watching over them. Summer his sister is very different to Vegas at agility! She is very fast but with BIG turns! Why slow down to turn?? She makes me laugh so much! I live on an island and the dogs can swim in the cove in the summer and I love doing this with them. It's our favourite pastime together.
Will you attend WAC2022? if yes, what is your goal for WAC 2022? Yes, Team GB will attend and we can't wait to have an amazing competition again. I love the IFCS WAC event. I think it's the best agility championships there is and the team were very disappointed when it was cancelled although we obviously understand the reason why very clearly.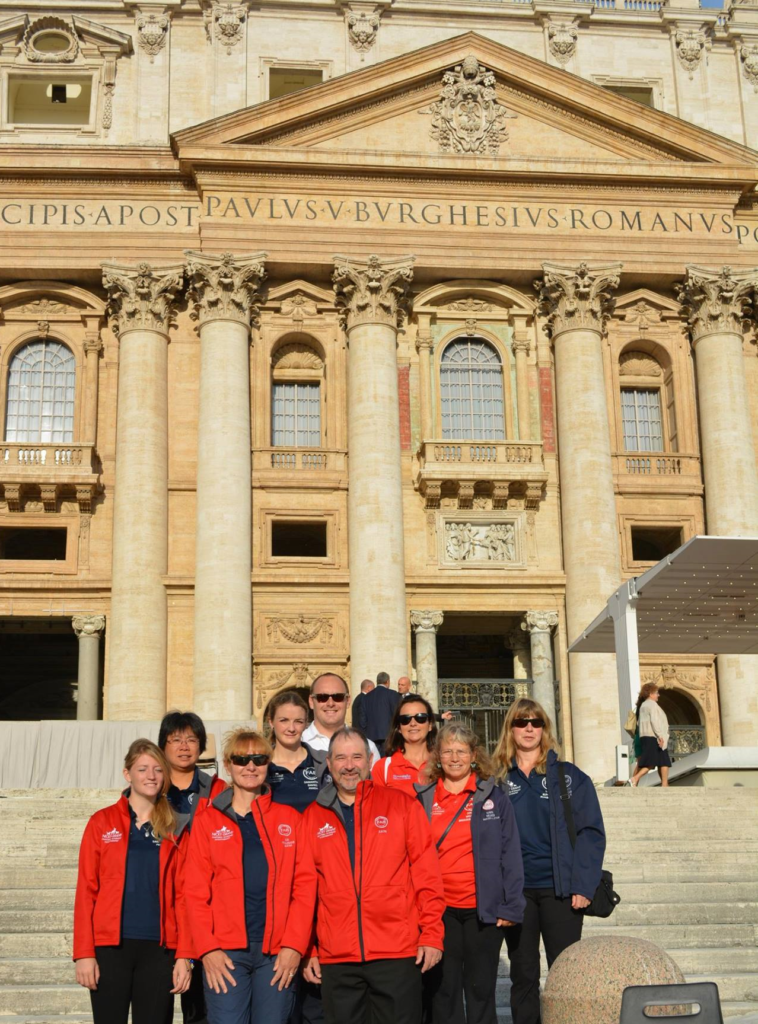 Just a last comment. One of the most memorable things Team GB ever did together was to accept Italy's invitation to go see the Pope in Rome. It was the most amazing experience and we can't thank the Italian team enough for inviting us to go with them. We all still talk about the wonderful time we had there and I loved the Italian Championships too. The venue was great.
Thanks Dawn for join us in this interview!
Stay tuned.. the next interview coming soon!